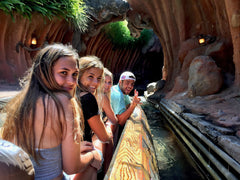 Last year I took my grandsons to Orlando. Because that's the kind of GiGi I am. One must make life-altering choices when you head to this magical city—where do we spend our time? Disney or Universal? How many days at each? Do we stay on property? Which property? It takes months to navigate all the options of a 5-day trip.
Given that my grandboys were 16 and 9 at the time, both huge Potter fans, big into Marvel character movies and my oldest grandson watched Jurassic Park so often when he was young that he literally wore out my VHS tape, the obvious choice for us was Universal. Home to THE WIZARDING WORLD OF HARRY POTTER, Spiderman, The Hulk, Jurassic Park and much more. But, in the spirit of "while we are here", I chose to also plan one day at Disney. We chose Disney Hollywood since that is where the Star Wars characters would be.
So, we stayed on property at Universal, hopped on the bus early each morning for our extra hour at Harry Potter World that is given to those who stay in one of their hotels. We had Express Unlimited passes, which meant that we got to skip the regular lines and get into a different line that got us in much faster. We even had the choice to go in the "single rider" line. If you didn't care about riding with your group, you could scoot right in ahead of everyone and hop on the first available car with an empty seat. This was all pretty sweet. We spent 4 glorious days, riding all the rides multiple times, buying Harry Potter Wands and riding the Hogwarts Express Train, taking pictures with minions and dinosaurs. We loved walking up to a ride and being invited in to the "special" line. We smiled with pity at all those poor people who had to stand in a regular line. The tag hanging on our lanyards identified us as a class above and we loved every minute of it.
Our final day was our Disney Day. Now we were all pretty exhausted from four hard days of fun but were determined to enjoy at least one day at the most magical place on earth. Disney does not have Express Passes that work all over the park. Instead you must do some soul searching and planning ahead of time to sign up for Fast Pass lines. You are limited to 3 Fast Pass reservations at a time and are also limited by the times of day that that ride is available. We got there bright and early and were dismayed to find that the rides or experiences we wanted to see already had long lines and, if we stood in a line for one ride, we were in danger of missing our reserved Fast Pass time at another ride. It was frustrating. We were not special. We were not VIPS who could just walk up to any ride and be invited in. We were just a part of the crowd, standing in line for 2 hours to get a picture with Chewbacca from Star Wars.
We were grumpy and angry. What happened to our elevated status? Didn't they know what we had just enjoyed for four days? Finally, we just left the park because we were so disappointed with the experience. It was not the happiest place on earth.
We did not lose any access to taking part in any ride or show or event. We had equal opportunity, just like everyone else, to wait for our turn. But we didn't like it, because we weren't given priority or acknowledgement of the status we had enjoyed for four days. It was a bummer.
And that, my friends, is what privilege feels like. White skin privilege serves several functions. First, it provides white people with "perks" that we do not earn and that people of color do not enjoy. Second, it creates real advantages for us. White people are immune to a lot of challenges. Finally, white privilege shapes the world in which we live — the way that we navigate and interact with one another and with the world. www.tolerance.org
When others gain rights, recognition, equal standing in the world, we do not lose ours. My favorite Facebook meme reminds us, "Freedom is not Pie". There is not a finite amount of equality that must be doled out and measured. We just don't have the Express Pass anymore. And, for some people, that makes them grumpy and angry.
________________________
Glenda Stansbury is Marketing Director of InSight Books and Co-Founder of InSight Institute Certified Celebrant Program. She is also a speaker, a trainer, and an observer of life, and one of Doug Manning's adorable and talented daughters. You may email Glenda at OrdersAndInfo@InSightBooks.com.