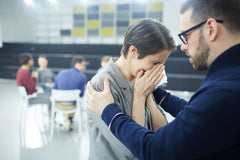 She was a beautiful, loving wife and mother. She had a husband who adored her and two wonderful children, ages 11 and 6, who were bright and active kids. She was a talented gardener and artist. She was active in her kids' school activities and had just created a beautiful, interactive, learning garden at her son's school. But, one Saturday morning she walked into the bathroom and took her life while her husband frantically called 911. The only question that screams from this scenario is WHY? WHY?  
As you have probably figured out by now, I'm a real fan of figuring out the whys in life. The only reason I can write this blog is that I'm constantly observing and eternally curious about the world and the weird creatures who inhabit it. I never take anything at face value and just shrug and say, "Oh well, it is what it is". I want the story behind the story. Yes, ok, I'll admit it—I'm nosey.  
So, what was the why behind a 40-year-old woman making the ultimate decision? Let's follow the journey of unresolved grief.  
Step 1—when she was 12 years old, her mother died suddenly of an aneurysm and this little girl was home alone with her dead mother. That's a trauma and a grief that few could get their minds around. But, I'm sure that, at the time, no one truly understood what it meant to support her in that grief journey. "Kids are resilient. She'll be fine". . . 
Step 2—when she was 21 years old, she was diagnosed with Stage 4 Non-Hodgkin's Lymphoma. A virtual death sentence. But, she came through the two years of terrifying treatment, and was pronounced cancer free at the age of 23. No one truly understood the debilitation and grief that comes from that kind of journey. How could she mourn the years she lost and the health that was snatched away, when everyone was celebrating that she was cured? "Aren't you glad that you are fine?". . . 
Step 3—when she was 27, she met a young Army pilot and they fell in love and married. He was an Apache helicopter pilot, a valuable asset in the war that was raging in the Middle East. During their 13-year marriage, he was deployed four times—twice to Iraq and twice to Afghanistan. He was gone more than he was home. No one truly understands the loneliness and grief that accompanies those military families left behind. No one says "Thank you for your service" to the casualties of war who must run a home, take care of the babies and wonder every night if their spouse was in harm's way. "Oh, you should be so proud of your brave solider husband". . .  
She became depressed. She became a hoarder. I've talked in another chat that we've had about the connection between grief and hoarding. Here was a perfect example of that soul and psyche that said, "I've lost too much. I can't lose anything else". And, on a Saturday morning, when the crush of grief became too much, when her family was insisting that she seek help to crawl out of the hole, she allowed it to consume her in a final search for peace.  
As I stood on the platform serving as the Funeral Celebrant for her service, I looked at that little eleven-year-old boy and six-year-old girl, who sobbed the entire time. How could this vibrant, wonderful mommy, who loved to dance and created beauty out of dirt, leave them? And I worried that the cycle of loss would start yet again.  
As a Celebrant, I don't often provide grief resources for my families. I trust that the funeral professionals who are walking with them will provide aftercare bereavement support (and hope that they are using our books).  
But I was not going to leave this one to chance. In the presentation folder that I always give to the family with a copy of the service, I also included Lean On Me Gently: Helping the Grieving Child and I Know Someone Who Died, the coloring book for younger children and the book The Empty Chair about suicide. I have no idea if the father has found his way out of the fog to read them or to use them to help his children walk a healthy grief journey. All I know is that unresolved grief, no matter the age, has life-long devastating results. That we should be incredibly vigilant in providing safe spaces and listening ears for anyone who needs a companion. I've said it before, grief ignored does not go away.  
__________
Glenda Stansbury is Marketing Director of InSight Books and Co-Founder of InSight Institute Certified Celebrant Program. She is also a speaker, a trainer, and an observer of life, and one of Doug Manning's adorable and talented daughters. You may email Glenda at OrdersAndInfo@InSightBooks.com.