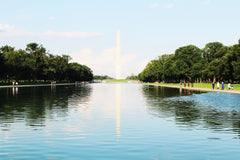 Throughout history, society has marked moments in time when life changed suddenly and completely. Those dates are seared into our memories and we look back to "before" and "after", what we lost and, perhaps, what we gained.
December 7, 1941 when the fire and terror of war rained down upon our country and America once again found itself fighting a war on foreign soil. For people of a certain age, that day lived on in infamy as the President proclaimed at the time.
April 19, 1995. For my city and state, this is the day that the Alfred P Murrah Federal building came down and we stood in horror as we understood that homegrown hatred can be deadly. The country came to our side as we searched for ways to navigate the loss of our citizens and the loss of safety. This year was to be the 25th Anniversary commemoration with events and remembrances planned for 168 days to honor the 168 lives lost. While we will still remember that day, the gatherings and elaborate ceremonies will have to wait.
September 11, 2001. The next day that lives on in infamy as the entire country was rocked by the sheer overwhelming news that our planes had become weaponized and almost 3000 people were killed in the name of religious and political crusades. Our lives have been significantly changed to this day—how we travel, how we view immigrants, how we think about our relationship to the rest of the world.
March 11th, 2020. Now this date may not mean much to you. But, in my mind, this was the day the world tilted. We had watched the growing concern of this novel coronavirus as it swept through China, then Italy and Spain. We heard rumors of it showing up in Seattle. But we still thought that it was isolated and manageable. Swine Flu, Bird Flu, H1N1, Ebola—all of those dangerous viruses had come and gone and had not impacted our daily lives. What's to worry about?
I conducted a funeral service on Monday of that week for a young woman who had died of suicide. The church was packed with 400 people. There were hand sanitizer stands stationed around the foyer and we were encouraging people to be careful. But, of course, after the service, the family stood in a receiving line as their friends and family filed by, hugging, kissing, crying, expressing their grief and support.
Tuesday March 10th, I got on a plane to travel to Columbus Ohio to hold a Celebrant Training. My husband begged me to cancel. Don't be silly, I told him. It's all fine and I have 20 people who have paid for this training and I'm going to go. I dutifully took my hand sanitizer and wipes (I could still find some then) and flew into the clouds. It's all fine, right?
The hotel where we stayed is across the street from Ohio State University, so a bulk of their business is dependent upon groups who are involved in activities at the university. When I checked in, the hotel clerk told me that they had cancelled a national gymnastics competition, and everyone was heading home. It's all fine, right??
Wednesday, March 11th, our first day of training. We were more aware of taking precautions. The tables were wiped down, we set the chairs a little further apart, we had hand sanitizer available as they walked in the room. But we weren't concerned. It's just 20 people in a room for three days. It's all fine, right???
Our first day of training finished at 9:00 p.m. When I arrived back at the hotel, my husband blew up my phone. Of course, I hadn't been watching the news—I was training. "Have you heard?" "Heard what?" And he filled me in on the events of that fateful day. An NBA player had been diagnosed as positive, IN MY CITY, and within an hour, that game and all NBA games had been cancelled indefinitely. NCAA began with the first step of planning the March Madness tournament with empty arenas and then decided that that wasn't safe. Flights were being cancelled. People were realizing that this was not an Asia or European problem, that it was here, it was everywhere. And then, the final blow of the evening, Tom Hanks and Rita Wilson were tested positive. Not Tom Hanks! What's happening? Is it all fine?? For me, that was the day the world tilted.
We asked our participants if they wanted to postpone the training the next day. They wanted to stay and finish, so Thursday and Friday were spent with these lovely 20 people as they learned how to be Funeral Celebrants. I went to the airport that Friday afternoon a little more cautious, a little less cavalier. What is this thing?
And then the waves just kept coming. My family was personally touched when my sister and her sons became ill after flying home that same week and it was so early in the process that there were no tests to be had. Not that that situation has improved very much, but definitely in the first weeks, it was close to impossible to find a test. So, they had no choice but to quarantine and deal with it. Thankfully they recovered with no medical complications.
My 87-year father went into self-quarantine and has been there now for over a month.
We began the shrinking of our experience. First it was 50 or less. Soon it was 10 or less. Six feet apart. The hysteria of toilet paper and cleaning products. Lessons on hand washing. People talking about N95 masks when a week before they had no idea that such a thing existed. The rolling date of when it would be over. Two weeks. End of March. Easter. End of April. End of May? Oh please, let it be over by June!!
When I look back at the past 35 days, I always think of it beginning on that Wednesday, the day the world tilted, and our lives have completely and overwhelmingly changed.
What have we lost? Presence. Comfort. Safety. Health. Identity. Livelihood. Freedom. Certainty. Confidence. Trust. Predictability.
And what have we gained? While it is still too early to fully comprehend what will be irrevocably changed and altered from this experience, we can still look at some of the observations that this time of isolation has brought to our attention.
Awareness—we have become indelibly aware of how inter-connected we are to others. How we took for granted the ability to make a hair appointment, to go to the store, to celebrate a birthday. How we depended upon others to fill our days and provide services and comforts, to allow us to live in a way to which we had become accustomed. We stop and applaud the health care workers, the delivery drivers, the grocery personnel—calling them heroes. Perhaps they were always heroes. While we were applauding our sports figures and celebrities, they were keeping the world spinning. It just took us this momentous event to acknowledge it?
Togetherness—when we are all winnowed down to the common denominator of isolation, we find much more common ground than we knew existed. Yes, for those of us who are lucky enough to have a comfortable roof and a bed and entertainment, our complaints about being confined ring a little hollow. But, together apart we share this common goal of saving people around us, and maybe even ourselves.
Humility—how many times have we looked around at our country, our country, that has been brought to its collective knees and said "But, we are the United States of America! This can't happen here. We can't have food shortages or lack of medical equipment, or inadequate plans for financial support, or leadership who is incapable of navigating this crisis, or housing for those who have no place to distance or not enough bandwidth to connect the world online. We are the United States of America!" Maybe when we watched all of those people dying in China and Italy and Spain, we should have been a tad more humble and a lot more proactive?
Slowness—for many of us our days have screeched to a halt. The usual hustle and bustle of work, recreation, striving and achieving is no longer relevant. I watch my calendar as trip after trip, appointment after appointment, deadline after deadline fade away. What do we do with this space? Do we find other ways to be productive? Do we binge watch? Do we sit outside and watch the birds? Do we stare out the window and long for "the good old days"? What do we take from this time that will impact how we view what is important and vital and what is noise and busy work?

Generosity—there have been stories of a million little acts of kindness that have grown into the space of the unknown. When my daughter, a hospice nurse, told me early on that she was down to one mask to protect her as she entered homes of patients with unknown situations, I sprang into action. I posted on Facebook how concerned I was about this situation. And, even more immediately, other people sprang into action. Facebook friends, cousins, friends from all over the country volunteered to make masks. Within a week, she was showered with the generous precious gifts of protection from people she did not know. And thousands of people have sat down at their sewing machines to turn out masks for strangers, because this is the small act that they could share.
Extra tipping for the delivery drivers and take out workers. Sending money to the hairdresser or manicurist for services that we won't receive. Texting each other to check in and see if you need something. Shopping for those who cannot get out. Being grateful and sharing what we can.
Appreciation—as we open up our awareness, hopefully we become appreciative of the simple joys of gathering, of going to the park, of worshiping together, of hugging a friend, of being safe in our world. Perhaps we remember to thank the grocery clerks and nurses long after this time is past. Perhaps we truly honor our teachers remembering how we struggled to take on that role without warning or training. Perhaps we commit to being generous with those people who provide services for us. Perhaps we make extra efforts to attend that party, to go to that funeral, to visit that loved one in the nursing home, to donate to those organizations that provided the support that kept our society together.
Who knows what will happen after the world tilted? It's going to be fine, right?
_________________________________
Glenda Stansbury is Marketing Director of InSight Books and Co-Founder of InSight Institute Certified Celebrant Program. She is also a speaker, a trainer, and an observer of life, and one of Doug Manning's adorable and talented daughters. You may email Glenda at OrdersAndInfo@InSightBooks.com.