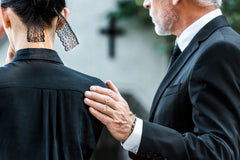 Funerals. Not a topic that many people wish to discuss at any time. Funerals can represent loss and sadness. Funerals can represent difficult memories of families trying to be together when they have not had a relationship. Funerals can sometimes be cold, boring and impersonal. Funerals are often something that people wish to avoid.
And now this. Funerals in the time of Covid 19. So, a hard and strange social practice has just become even more challenging. We can't gather. We can't hug. We can't hold each other's hands. There are a lot of can'ts being presented right now. And rather than just dealing with the deaths of our lives, we are confronted daily with mortality counts and heartbreaking stories of thousands of people losing their lives to this invisible and invincible enemy. It seems that death is very much with us.
However, now is also a time of opportunity and vision. As a Funeral Celebrant, I have been advocating for 20 years that funerals should change, be unique, personalized and special. The funeral profession has long been tied to the traditions and practices of the past and bringing it into the 21st century has been a slow and, at times, agonizing process. Funeral directors are very concerned about their families and do not want to get too far out of the comfort zone for fear of offending their sensibilities. Which can keep them from thinking outside of the box.
Well, we are no longer thinking outside of the box. The box has been destroyed and we are in new and unfamiliar territory for both the funeral professional and the families who are dealing with a death. Now that we have had a few weeks to adjust and to create new options, let's talk about the cans that overcome the can'ts.
The first statement that must be embraced and understood is that a service is important. A service, in whatever format, is vital. A service is healing. The journey of grief is not one that can be put on pause until it is better, until we can travel, until the world begins to spin again. But, since a "traditional" service is not a possibility, how do we do this?
One of the joys and benefits of this particular time in our experience is that technology gives us such wonderful ways to connect.
Zoom
For most people 2 months ago, that was a word a 3-year old used to motor his toy race car. Zoom Zoom. And now, it is part of the daily vernacular. Zoom and other streaming platforms such as Facebook Live, Go to Meeting, etc. provide an opportunity for everyone to gather together and experience the service live. Your funeral director, your Celebrant or a 16-year-old in your household can set up a meeting, send out an invitation and everyone joins via computer, phone, or iPad. You can see each other, talk to each other, and the officiant can be anywhere offering a service that remembers your loved one.
The gathering can also be recorded and shared with those who wish to watch it again or those who could not join live.
I was honored to conduct a Zoom funeral recently. There were no family members in the room or even in my state. They were scattered all over the country. It was such a gracious and precious moment to see them join the meeting, see each other's faces, spend a few moments catching up and then listening to the service together. We played her favorite song, we lit candles together. It was intimate and personal and each family member was thrilled at how we celebrated this matriarch of their lives in such a complete and deep way.
Graveside
In some states and in some cemeteries, gatherings of 10 or less are still allowed. In some states and in some cemeteries, no one is allowed at graveside. There is the can't. The can is you can still have a graveside service. You can use a streaming service just as described above and everyone can watch the event.
Or announce the time when the funeral coach will be driving to the cemetery and ask people to park in a certain spot in town where the family can see the love and support emanating from the cars. Invite people to make signs and put them on their windshields, telling the family who is there for them.
If cars are allowed in the cemetery, use the low frequency FM radio technology that drive in theaters use so guests can listen from their cars. Invite people to tie a certain color of ribbon to the handle of their doors to show support for the family.
I've done a few graveside services. The funeral home       brought speakers and microphones so those sitting in their cars felt that they were part of the experience.
Now and Later
Some families definitely want to look forward to a time when they can gather and plan to wait on having a service. However, they, too, understand that now is the time to gather the stories and capture the moments of memories and emotions. July, or whenever we can safely join each other again, seems like a long time to hold those thoughts and feelings.
The funeral directors and Celebrants are offering what we call the "silent service". I visit by phone, email or Zoom with the family members, just as I would if I was having a family meeting preparing to conduct a service. Then I write the complete service and it is posted on the funeral home website. The obituary invites everyone to click on the service and read it, experience it in their own ways and to leave a message or a virtual hug for the family. Then, when the time is right, the family can take that service or expand upon it to have the service that is right for them.
Funeral professionals, Funeral Celebrants, clergy, officiants all over the world are being challenged to find ways to create sacred moments of remembering and to offer healing ways to honor a life and mourn a death. We, who have always stood in the gap to be the point of light and strength for a grieving family, are ready to find the cans in a season of can'ts. Rely on them, they will walk with you.
Glenda Stansbury is Marketing Director of InSight Books and Co-Founder of InSight Institute Certified Celebrant Program. She is also a speaker, a trainer, and an observer of life, and one of Doug Manning's adorable and talented daughters. You may email Glenda at OrdersAndInfo@InSightBooks.com.